KRRF

KRRF's last project:
English Teaching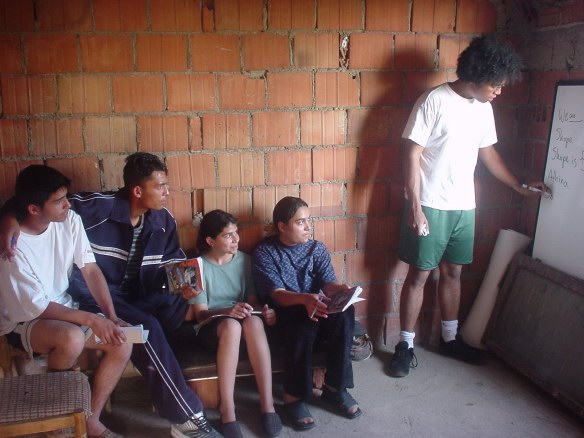 photo: KRRF English teacher Dennison Bertram in Kosovo, 2002
As the last project of the organization, KRRF is running an English teaching project for Kosovo Roma refugees in Nis, Serbia, in Spring-Summer 2005.
The goal of the instruction is to raise the students' proficiency level by the end of the Summer so that the students will be qualified for employment as translators, interpreters or in other language-related jobs, and also so that the Roma will be better able to represent themselves with international organizations.
Teachers will be teaching English in a classroom of 50/50 Kosovo Roma refugees and local Serbs in the town of Nis, Serbia, where many Kosovo Roma live after fleeing Kosovo. Teachers will work for one month at a time, 5 hours per day, with weekends off. Teachers who want to work for more than one month will be considered. Materials will be provided but any that the teacher can supply is appreciated.
Residing in a rented apartment with the remaining KRRF staff, teachers will have meals provided as well as transport costs from Central Europe to Kosovo/Serbia and back.
Organizations continuing to work with Roma in Kosovo: